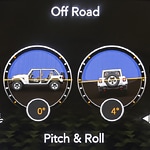 The Jeep Wrangler is a compact SUV that's very popular all around the world. This vehicle has rugged good-looks, iconic styling, and an engine that won't quit. You can drive this SUV on the highway or on an off-road setting with relative ease. The Wrangler offers four-wheel-drive capability, and consumers can choose from multiple trims.
The interior of this vehicle is quite luxurious to some degree. There's a good blend of modern technologies and soft-touch materials inside of the cabin. The Wrangler can seat at least five individuals. Consumers can expect tremendous comfort from the leather-trimmed seats. Fine cloth is also blended into the upholstery for added comfort. Nappa leather just so happens to be on the menu. There's a 552-watt Alpine system that comes equipped with an all-weather subwoofer. A water-resistant removable carpet is also present.
Want more information? Head over to our dealership for more details or for a free test drive.